Check back for 2018 lecture dates to be announced soon!

All talks are held at the IBSP Interpretive Center, A-16 from 2-4 pm.
---
The Friends of Island Beach thanks our sponsors for the 2017 events. Please support local these local businesses who support the park and the community:
---
2017 Spring Lectures
Sunday, Feb. 12 - Project Terrapin: Come learn about the Northern Diamondback Terrapins that frequent the Barnegat Bay and Island Beach State Park from Dr. John Wnek,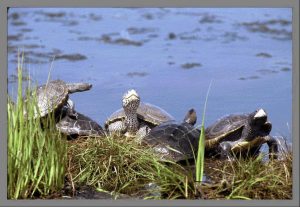 research coordinator for Project Terrapin and science supervisor at the Ocean County Vocational-Technical School's Marine Academy of Technology and Environmental Science (MATES). Dr. Wnek has worked with terrapins at Island Beach State Park and North Sedge Island since 2002. Project Terrapin will be holding a public hatchling release at Island Beach on May 20th and you're invited.
Sunday, Feb. 19 - Americorps NJ Watershed Ambassador Program: Danielle Fadeski, Americorps Watershed Ambassador for Barnegat Bay, will talk about the health of the Barnegat Bay. She is one of 20 watershed ambassadors in New Jersey. The program, now in its 17th year, is administered by the New Jersey Department of Environmental Protection.
Sunday, Feb. 26 - Historical Adventure Trail Hike: Join the Friends of Island Beach State Park and learn more about the shacks, lifesaving, baymen, and hotels at Island Beach State Park. Hike will be held, weather permitting.
Sunday, March 5 - Marine Mammal Stranding Center: Since 1978, the Marine Mammal Stranding Center, a private, nonprofit organization, has responded to over 4,800 strandings of whales, dolphins, seals and sea turtles that have washed ashore throughout New Jersey. They've responded to numerous incidents at Island Beach, including responding to a rare Blainesville's beaked whale weighing close to 800 pounds that washed ashore dead at Island Beach on Jan. 1. Learn more about their work, what to do and what not to do if you see a stranded turtle or marine mammal, and how you can help.
Saturday, March 11 - Native Plants and Your Jersey Shore Yard – Perfect Together! Just in time for Spring planting, Karen Walzer, public outreach coordinator for the Barnegat Bay Partnership and co-leader of the Jersey Shore chapter of the Native Plant Society of New Jersey, will present "Native Plants and Your Jersey Shore Yard – Perfect Together!" Native plants not only add beauty to your yard, they offer important environmental and economic benefits. Come see a selection of lovely native plants that thrive in Jersey Shore soils and climates and learn about the resources available to homeowners on the "Jersey Friendly Yards" website, including a searchable plant database.
Sunday, March 12 - Clean Ocean Action: Amanda Wheeler, education and volunteer coordinator at Clean Ocean Action, will offer insight into the organization's efforts to keep our ocean clean. Clean Ocean Action holds twice yearly Beach Sweeps and a Student Summit for middle schools at Sandy Hook and Island Beach, among other events. More information and registration coming soon!
Sunday, March 19 - Save Barnegat Bay: Join Save Barnegat Bay's executive director Britta Wenzel to learn about its mission to restore and protect Barnegat Bay and its ecosystem by being a strong and independent voice for the Bay throughout the watershed, including all of Ocean and part of Monmouth Counties
Sunday, March 26 - American Littoral Society: Helen Henderson, the Ocean Planning Manager for the Mid-Atlantic region of the American Littoral Society will delve into ocean planning and the Barnegat Bay. The way we use the ocean is expanding rapidly. Offshore shipping traffic is increasing, plans for offshore energy projects are becoming a reality, and agencies are planning long-term beach replenishment projects that could negatively impact resources by sand mining from important places that serve as prime fishing areas of habitat for developing fish. She will also discuss the recent successes the society has had implementing storm water non-point source pollution improvement projects to improve the health of the ocean's backyard – the Barnegat Bay. Register for the American Littoral Society program here.
Sunday, April 2 - The Birds of Island Beach State Park: Join Becky LaBoy to learn about the birds of Island Beach State Park and then go on a birding hike. According to Birding in Ocean County, Island Beach State Park is the best place in Ocean County to go birding. A total of 328 species have been seen on the 10-mile-long strip of land by this birding community.
Sunday, April 9 - ReClam the Bay- Sea, Touch & Learn: ReClam the Bay is a local non-profit that promotes environmental involvement and education by growing and maintaining millions of baby clams and oysters at upwellers located along the Barnegat Bay.
Sunday, May 7 – The Sedge Islands Marine Conservation Zone: Dr. Jim Merritt, program director at the Sedge Islands Natural Resource Education Center for more than 15 years, will talk about the Conservation Zone, which contains 1,600 acres of highly productive tidal marshes, creeks, ponds, and open water. The purpose of the Conservation Zone is to protect and interpret the wildlife resources while reducing user conflicts and maintaining the traditional uses of the area. Dr. Merritt plans to share some of his favorite kayaking routes and said he may even divulge the spot where he rakes his clams.
Saturday, May 13, at 1 p.m. - Piping Plovers: Island Beach State Park, NJ and Beyond: Todd Pover, Conserve Wildlife Foundation of New Jersey's beach nesting bird project manager, will be here to talk about efforts to help the federally threatened and state endangered plover population. Last summer, a piping plover pair nesting on the Southern Natural Area beach at Island Beach successfully fledged two chicks. It was the first ocean side nest in more than 25 years and the first in the park in more than a decade.